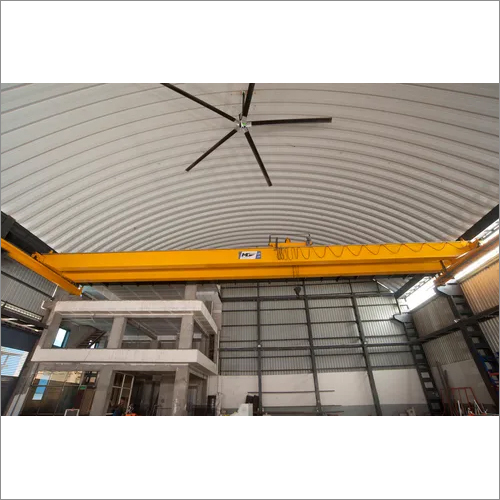 Product Description
Our company offers to our clients precision engineered range of heavy duty Single Girder EOT Cranes. This product is develop with finest quality raw materials sourced from reliable vendors of the market. Among the mainly used options, single girder electric overhead traveling crane is the preferred one by most industries. These cranes are operated electrically and are used in almost all kinds of industrial sectors. More often than not, industries put them to use for medium duty tasks. These products are known for its durability, reliability, low maintenance & long service life. Offer these products as per client needs at market leading prices.

MG Cranes offers end platforms along with heavy duty Single Girder EOT crane for maintenance purpose only. The single girder crane comprise of different components including the likes of one main girder, a wire rope hoist with electric trolley, and two end carriages. They can be accommodated with the given LT bracket and rail height to achieve maximum height of lift. MG Cranes assures its customers that the cranes can be utilized in perilous areas as well. They also provide semi electric overhead traveling cranes with a single or double motions manual. Individuals can select the ideal alternative and be assured of receiving good value on their investment.


Other Details of Single Girder EOT Cranes:

1) Bridge girders & End carriages : Prepared through best workmanship by most qualified and duly skilled technicians with branded raw materials of i.e. ESSAR, SAIL

2) Brakes : Of reputed make i.e Speed-o-control/Electromag. Electro hydraulic Thruster type.

3) Electric Motors : Of reputed make BBL/Kirloskar/Siemens. Special Crane duty motors only.

4) Gear Boxes : Manufactured by 'MGCranes' with duly hardened Gears/pinion of EN8/EN24 material.

5) Wire Ropes : Of reputed make USHAMARTIN

6) Track Wheels : All track wheels are with L type bearing pedestals which provide easy maintenance and changeover of wheels. All track wheel are of appropriate size and provided with flanges to facilitate guide on the track.

7) Electricals : Of reputed make i.e FAG/NBC/SKF

8) Couplings : For all three mechanisms are of geared type couplings to insure longer life.

9) Electric Cables : Are of reputed make RRKABEL / Finolex The pendant push button station is duly suspended by wire rope at 24/110 volts to avoid accident.

10) Switch Gears : Switch gears, Transformers, Fuse etc. i.e Siemens.