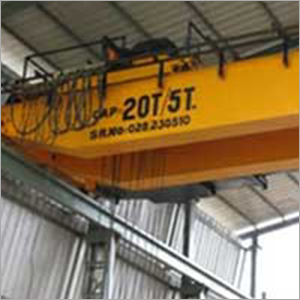 Overhead Crane
Price And Quantity
Unit/Units

50000.00 - 500000.00 INR
Product Description
Having high mechanical strength, 1 Ton Overhead Crane is exported by us to our clients. It is utilized in commercial and industrial sectors for lowering or lifting a load with the aid of a lift wheel or drum around which a rope or chain can be wrapped. The hoist calls for a manual operation and is electrically powered to give efficient functioning. It has the ability to lift medium to heavy weight items and that too effortlessly. The Overhead Crane is energy efficient and has corrosion resistant surface finish. It provides long lasting working without any wear & tear.
Technical Details:
Capacity Range : 1 T to 100 T [1000kgs to 100000 kgs ]
Span Range : Maximum 30 Mtr.
Duty Class:
Class I [ Light Duty ]
Class II [Medium duty]
Class III [ Heavy duty ]
Class IV [ Extra Heavy-duty ]
Salient features:
Electric Motors Of reputed make BBL/Kirloskar/Siemens. Special Crane duty motors only.
Bridge girders & End carriages Prepared through best workmanship by most qualified and duly skilled technicians with branded raw materials of i.e. ESSAR, SAIL
Gear boxes Manufactured by 'MGCranes' with duly hardened Gears/pinion of EN8/EN24 material.
Brakes Of reputed make i.e Speed-o-control/Electromag. Electro-hydraulic Thruster type.
Wire Ropes Of reputed make USHA MARTIN
Track Wheels All track wheels are with L type bearing pedestals which provide easy maintenance and changeover of wheels. All track wheel are of appropriate size and provided with flanges to facilitate guide on the track.
Electricals Of reputed make i.e FAG/NBC/SKF
Couplings for all three mechanisms are of geared type couplings to insure longer life.
Electric Cables Are of reputed make RRKABEL / Finolex The pendant push button station is duly suspended by wire rope at 24/110 volts to avoid accident
Switch Gears Switch gears, Transformers, Fuse etc. i.e Siemens.
Various additional Features:
Double Trolley [Twin trolley]
Dual Speed / Multi-Speed
Double Hook / Twin Hook
Cabin Operated with Master Controls
Cabin Operated with Push Buttons
Floor operated through Pendant Push Buttons
Slipring type motors
VFD Driven mechanism
Application at:
Steel Mills
Foundries
Cement Plants
Paper Mills
Chemical Processing Industries
Plastic Processing Industries
Machining Workshops
Steel Godowns
Assembly Workshops
Fabrication Workshops