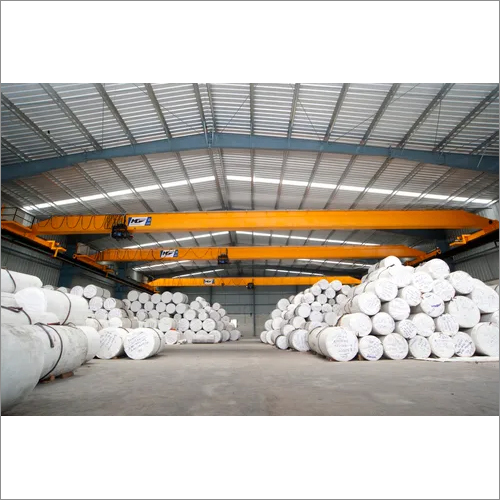 Product Description
Our company offers to our clients high quality range of double girder EOT Cranes. Our team of professionals are designed these products with international quality standards & made with finest quality raw materials. Our clients can avail these products as per their needs at market leading prices.
There are times when the span is higher than the normal level. On such instances, individuals can utilize this alternative. Users are provided with a full-length maintenance platform on crane itself that helps in reducing time when the crane is being repaired. The main parts of this machine include the likes of bridge girders, end carriages, platform, crab, crane traveling mechanism and electrical equipment. The design of the double girder electric overhead traveling crane is very compact. Even the electrical panel sports a modular build that covers a wide range of operation. MG Cranes has designed the double girder eot crane in such a way that it becomes easy for the users to operate it. Their fuse less circuitry, and ducted wiring are some of the additional mechanisms on the electrical panel.
Double Girder EOT Cranes consists of the following main parts:
Bridge Girders (Fabricated)
Crab (Fabricated)
Crane Traveling Mechanism
End Carriages (2 nos)
Platform
Cabin & Electrical equipment
Specification and main part of EOT Crane:
1) Design: Compact dimensions, low weight, easy to operate and easy to maintain, modular design with direct fits between components
2) Painting: Every component & part is thoroughly scrubbed & painted with two coats of primer before assembly & two coats of synthetic enamel after testing.
3) Gear Boxes: Precision flat helical/ spur gear units in light alloy housings with case-hardened gears, high-grade surface treatment and permanent oil/grease lubrication.
4) Motors: We use sturdy cylindrical/conical rotor pole-changing motors with elegant continuous cast aluminium sections, integrated safety brakes insulation class F,IP54 protection.
5) Brakes: Single/ Dual-disc electromagnetic DC brakes featuring automatic braking on power failure. Environmentally sound brake linings designed for approx. 10000 braking operations allow long maintenance intervals.
6) Electrical Panel: Modular design, covering a very wide operating range. The systems are designed for ease of installation and maintenance and reliable operation, with fuseless circuitry, ducted wiring and non-screwed terminals. Each drive group is equipped with a motor overload protection device to provide effective protection against inadmissible overloading.
7) Limit Switches: To prevent over hoisting and over lowering of hook.
8) Push Button Stations: Extra light, handy, easy to operate. Wireless Radio remote controls are also conveniently and widely being used now.
9) Maintenance Platform With Hand Railing: Easy, simple & safe maintenance of the Crane extended partially or along the full length of the girder.
10) Soft Starts: Electric / Electronic soft start modules electrically coupled to the long travel drives to achieve jerk free, cushioned and smooth starts.
Capacity Range:
1 T to 100 T [1000kgs to 100000 kgs ]
Span Range:
Maximum 30 Mtr
Duty Class:
Class I [ Light Duty ]
Class II [Medium duty]
Class III [ Heavy duty ]
Class IV [ Extra Heavy duty ]
With Various additional Features i.e.
Double Trolley [ Twin trolley ]
Dual Speed / Multi Speed
Double Hook / Twin Hook
Cabin Operated with Master Controls
Cabin Operated with Push Buttons
Floor operated through Pendant Push Buttons
Slipring type motors
VFD Driven mechanism
Application at:
Foundries
Steel Mills
Chemical Processing Industries
Paper Mills
Cement Plants
Plastic Processing Industries
Steel Godowns
Machining Workshops
Fabrication Workshops
Assembly Workshops